Attention: Do this before your competition does...
"How to Use Mobile Websites to
Get More Cleaning Clients"


From The Desk Of: John Braun Date: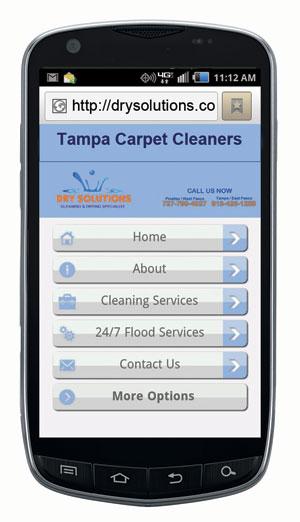 It's all going mobile.
By the end of May 2015, it's predicted that Google will have judged websites based on whether or not they are mobile friendly.
If your site does NOT pass the test, you could lose ranking on your site.
Plus, having a mobile friendly site will help you sell more online.
What would Mrs. Jones do if she came home to a flooded house? What would she do if Fido got sick all over her white living room carpet? If she's under the age of fifty, there's a good chance she'll reach for her smart phone to find a cleaning or restoration company.
A smart phone is a device used for mobile Internet browsing. Smart phone usage rises when a person is on the go or in an emergency.
Why? What do you take with you every time you leave home? You take your keys, wallet and your phone. With a mobile ready website, you can always be at your prospect's fingertips.
The problem is, most cleaning company websites take no thought to the fact that some prospects are searching on mobile phones. The companies that take this into consideration will get more leads.
How does this work? Your current website will have a code embedded that will detect mobile web browsers. When a mobile user visits your site, they will be automatically directed to the mobile version of your site.
What will a mobile website do for you?
1. Your prospects will have a better experience when they are on a mobile phone. A better experience can translate into more sales.
2. Google will set your site in higher esteem if you have a mobile dedicated site. This can translate into higher search ranking.
Your site will have a mobile friendly version when a mobile device user is visiting. We'll create a scaled done, simple version of your site. And if you have specific text that you would like only your mobile visitors to see, we can include it for you on your mobile site.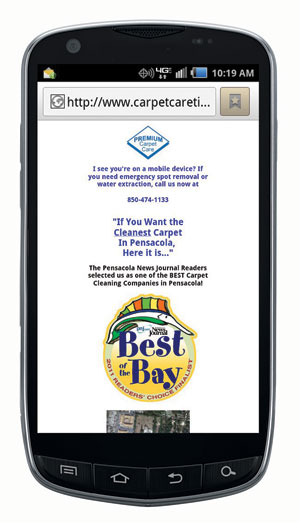 You do NOT need a new domain name.
You do NOT need new web hosting.
You do NOT need a whole new website.
You do NOT need to pay any ongoing monthly fees!
This is just a simple redesign of part of your existing website.
We'll create a five page, simple mobile website for you for just $347 for a limited time.
Two BIG REASONS to do this now:
1. You'll have a head start on the competition. Historically, Google has given more credit to early adopters with stuff like this. Remember what happened with selecting the right domain names for your city?
2. The sooner you sign up, the sooner we can get your mobile site up and running!!!
So HURRY and order now!



"I love working with John. He has helped us to reach # 1 in google searches. I always recommend John to all my clients."
Dusty Roberts, Rugbadger Corporation
www.Rugbadger.com
"I want all the other carpet cleaners out there to know what a fantastic experience I have had with Hitman. John is fair, easy to get along with, has been there for years, and most of all gets me results. I've tried many others, with lots of empty promises. I trust John with my multimillion dollar carpet cleaning company and so should you. Thanks so much!!!"
Brian Curran, Chem-Dry of Richmond
www.Cleanmoresavemore.com
Until Later,
John Braun
Ad Hitman
P.S. Get a jump start on this before your competition and get a better hold in the mobile searches. Also, by acting now, you could save your website rank. Take action NOW!
Here's what my clients say...

"NO ONE has better skills at SEO than John and his willingness to help you succeed at marketing in general makes him an indispensable coach."
Jesse Moon, The Noble House
"John has been a great addition to our team. He set up our websites and does great SEO work that keeps us in the eye of our customer base. I highly recommend John to any other business people who are considering him for consulting services."
Ed Dillon, All Phase Carpet and Upholstery
"Thanks John. I followed some of the advice you gave in the Get on Top of Google class and it took my website from #8 in Google to #1 on Google in my city. I'm glad I got in this course."
Ron Holt, Two Maids and a Mop
Serving Alabama and Florida
Click Here to Order Your Mobile Site
No thanks John, I'd rather join your Ad Club and learn to do my own mobile site

Questions? Click Here For Our Support Page













Terms of Service | Privacy Policy